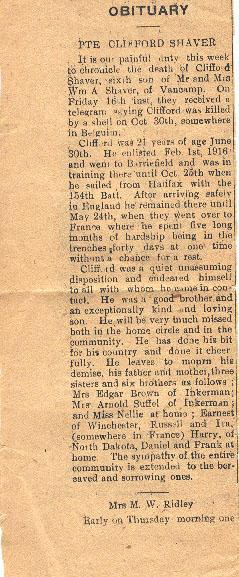 Obituary
PTE CLIFFORD SHAVER
It is our painful duty this week to chronicle the death of Clifford Shaver, sixth son of Mr and Mrs Wm A Shaver, of Vancamp. On Friday 16th inst, they received a telegram saying Clifford was killed by a shell on Oct 30th, somewhere in Belgium.
Clifford was 21 years of age June 30th. He enlisted Feb. 1st, 1916 and went to Barriefield and was in training there until Oct. 25th when he sailed from Halifax with the 154th Batt. After arriving safely in England he remained there until May 24th, when they went over to France where he spent five long months of hardship being in the trenches forty days at one time without a chance for a rest.
Clifford was a quiet unassuming disposition and endeared himself to all with whom he came in contact. He was a good brother and an exceptionally kind and loving son. He will be very much missed both in the home circle and in the community. He leaves to mourn his demise, his father and mother, three sisters and six brothers as follows; Mrs Edgar Brown of Inkerman; Mrs Arnold Suffel of Inkerman; and Miss Nellie at home; Earnest of Winchester, Russell and Ira, (somewhere in France) Harry, of North Dakota, Daniel and Frank at home. The sympathy of the entire community is extended to the bereaved and sorrowing ones.